The Basics
If you've already bet on golf, and know the ins and outs of signing up to a bookmaker, picking e/w bets vs outright winners, and understanding odds/terms, please skip the first 2 paragraphs.
Signing up to a bookmaker
Signing up to a bookmaker is easy. Golf betting is all about value, so its best to pick the bookmaker that offers the most. Read our article about which bookmakers are best to use.
Each-way vs outright winner
The main two styles of golf betting are each-way (e/w) or to win outright. To win outright, simply means you're predicting that player to come 1st. E/w means you're predicting the player to place.
Depending on what the bookmaker is offering, you'll usually get paid out if the player comes in the top 5, top 8, or sometimes top 10. You can tell by looking at the terms, here are 2 examples: 5 @ 1/4 means the bookmaker will pay if the player comes in the top 5 and will pay 1/4 of the initial odds if they come 5th. 8 @ 1/5 means the bookmaker will pay if the player comes in the top 8 and will pay 1/5 of the initial odds if they come 8th. Take a deeper dive into e/w betting and its value in this article
Golf betting: How to win
Making money on every tournament is impossible, so short-term gains are off the table. The real way to prosper when it comes to golf betting is by playing the long game. As seasoned veterans, betting on golf since 2018, you can see the trend of our performance in the photo below.

It is a clear upward trend, however, there are months where the trend is negative. The general rule is that you have to bet for 6 months or more to see profit, and the longer you bet the better you will do.
Character traits
Most people think sports betting is all about the maths, understanding the markets and finding value. Even though that does play a big part, we've experienced firsthand that individuals lacking these character traits always fail.


Patience
Patience is key because you never know the outcome until the golf tournaments are done. Time and time again we've had members cash out their bets because things aren't looking promising early on. If there is one thing we've learned through our years of betting, its that you never know what will happen, and miracles certainly do happen. Be patient, and let your bets play out.


Consistency
This is the most important one. If you're going to start betting with the intention of winning, you need to follow your strategy step by step. If that means betting on every PGA tour using the same set of calculations, then that is what you must do, every week. Sounds easy right? Not when you've lost the last 5 weeks in a row - then you'll be tempted to take that week off. This is the fastest way to fail. Be consistent, through the winning and losing streaks.


Composure
Let's say you've just come off a big win last week, you're feeling good. You decided to double your stakes because you're "feeling lucky" despite what your strategy says. Or, you're in a drought, losing the last 5 tournaments, and you decide to cut your stake in half. Composure means you're calm and able to make rational decisions. The best sports bettors know that it's all about the long game, each win and each loss should not be thought about, take the results and move on to the next week's bets.


Developing a strategy
Now into the nitty-gritty. No matter how disciplined you are, if your strategy isn't profitable, you won't be either. I look at it 2 ways. Most people who claim they've developed a profitable strategy do all their own research. They dive into historical course data, weather conditions, player statistics and form a prediction based on that.
Do you know who else does that? The bookmakers, who are worth billions of pounds and have unlimited resources. So go ahead, try competing with them.
Leveraging the bookmaker's hard work
Here is the other strategy, the one our members follow at GolfForecast. Use the bookmaker's predictions against them. The bookmaker's objective is not to predict the winner, it's to make money, so even if half their customers bet on the winner, the odds they provided are so low that it's not a huge loss for them. A lot of the bookmaker's focus is on the top players, the ones most people bet on, and have the highest predictions of winning. We call these favourites. In a recent finding, we reported that favourites win only 8.09% of the time... read more about it here.


Understanding value
Given how rarely favourites win, and how low the odds provided are, we can confidently label these players as bad value. Next, we identified long-shots, players who essentially have no chance of winning, and the bookies make this very clear. Any player with odds over 150/1 are considered longshots, don't touch them.
So, that leaves everything in between. So, in a typical PGA tournament of 150 players, there will be about 5 favourites and 100 longshots, leaving 45 potential picks.


What do you want your results to look like?
Before I explain the maths we use to determine our final picks, we have to develop the base of our strategy. Most punters are looking for big wins, they want to turn £100 into £1000, which means betting on 3-5 players to win outright. Picking the outright winner makes you the most money, but is also the hardest to achieve.
What is the result of this strategy? Long losing streaks, followed by the occasional big win to bump you back up. Would not recommend it.


What's our strategy?
Looking for smaller, consistent wins. We'd rather turn £100 into £200 consistently. The way to do this is to bet less, on more players. Usually, this consists of splitting your stake (let's say £100) over 20 different players. We also leverage e/w terms, so if we don't pick the winner, we're likely to collect some money back by having ur picks come in the top, 5, 8, or 10.


Doing the maths
Now we have to do some maths. The objective is to find undervalued players. Players that the bookmaker thinks won't do well, meaning they'll pay well if they do perform.
Our objective
The GolfForecast algorithm balances the strike rate and ROI to ensure the user wins consistently, while still building their bankroll.
On average we profit 1 in every 2.5 tournaments and generated an ROI of 74% in 2021. Here's how:


Step 1
The GolfForecast algorithm forecasts a percentage prediction for each player based on available player data (past 3 years - present), course data and weather.


Step 2
It then gathers odds and each-way terms to determine the bookie offering the best value for each golfer.


Step 3
We then determine 'Normalized Bookies Odds' which is what the bookies actually think. It is calculated by taking the best value odds for each golfer available and normalizing them so they sum to 100%. (Essentially, it's the value of the market if the bookies were to not profit).


Step 4
The algorithm then finds 'Normalized effective value' (the real value for each individual bet). This allows the algorithm to identify which bets are truly undervalued.


Step 5
Our final tip is determined by the difference between our algorithm's prediction and the effective value, therefore leaving users with the true value for each bet – giving the best odds.


The result
The GolfForecast algorithm takes the top 22% of the field in order to diversify your odds – the result is a much lower risk rate, higher strike rate, and more consistent profits. You win more frequently but not as BIG. Below is a photo of our tips, the ones highlighted in green are our picks. Pay attention to the discrepancy percentage.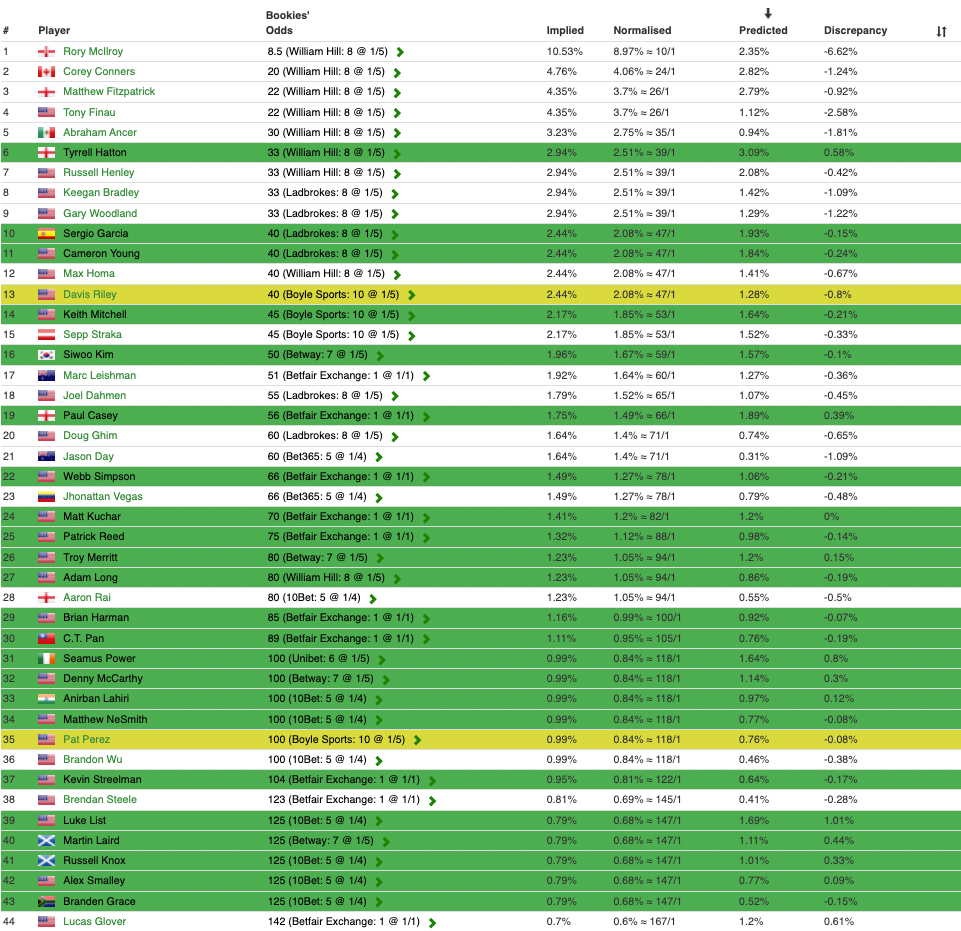 As you can see, the top 22% of discrepancy percentages are picked as our tips. If a player has a high discrepancy percentage but is a long shot, they'll be excluded. This leaves us with the highest value picks possible.


What are the next steps?
Feel free to follow these calculations described above, or develop your own strategy. This may take some trial and error to perfect, but with some patience, composure, and consistency, you'll get there.
Alternatively, you can join the hundreds of members using GolfForecast to make the best golf bets possible. You'll want to trial the system to see if it's right for you, that's why we offer a 30-day trial for just £1. Here's what you'll receive when you sign up.
- Access to our Facebook community to chat, learn and celebrate with other members
- Custom tips based on your bookmaker accounts and bankroll
- 24/7 support via our website


GolfForecast is not suitable for someone who is:
- Seeking quick wins
- Lacks patience
- Doesn't understand value
I say this because we try to keep our community filled with engaged members looking to play the long game. They understand value and appreciate the process we've put in place. This is what makes users successful and the community healthy.
The next steps are to view our past results, read our FAQ's, blogs and reviews to see if GolfForeast is the right fit.
Regardless of which path you choose to take, you now know how to bet on golf.
We wish you the best of luck!
Tags
how to bet on golf, golf betting, golf tournaments, golf betting odds, golf bets, golf tournament, golf betting markets, sports betting, golf odds, pga tour, bet on golf, pga championship, golf betting tips, betting markets, golf online, prop bets, tiger woods, golf betting strategies, golf betting odds work, online sports betting, golf betting sites, golf betting explained