Why our Golf Betting Tips are different
GolfForecast has spent years understanding what others cannot. To win at betting, you must exclude emotion and strictly focus on the numbers. It's been interesting working in an industry (being a golf tipster) where 95% of people who are "interested" are looking for free tips, to bet on tournaments here and there, ignore many of the important factors needed to increase value, and expect 1000% ROI's week after week.
Our message is clear. We provide a system that will produce results, the only thing you need to do is follow the strategy, and ride the waves. We thought people would find this easy, but over the thousands of users we've had use our system, only a few hundred were able to succeed.
Why?
Lack of statistical understanding. Every successful member we've spoken to has a firm understanding of compounding, time in the market, and patience.
We provide the highest chances of winning possible. By digging each week to uncover value, we can bet and say that we have the best odds possible. Most people take that as us providing a guaranteed win.
What this really means is that over the long term (4 months or more) having the best possible odds each week will be profitable, and the longer you bet the larger this profit is. However, there are down trends, as well as up trends, but the ups are larger than the downs.
Its proven time and time again with historical data. This applies to anything related to playing the odds. If your odds of winning a coin toss are 51%, you may still lose over 10 tosses, but over a larger data set, you will win.
You have to look at using our system through a data-oriented lens. Learn to understand how it works, and it will work for you. Why? Cause you'll stick with it.
Golf Forecast has a step-by-step system designed to eliminate any form of maths or guessing on the member's end. You will be betting like a pro, without all the back-end work. Here's how it works:
Market analysis
This section is free on our website, simply click on 'Forecasts' up on the header, pick that week's tournament, and scroll to the bottom. (Example image provided below).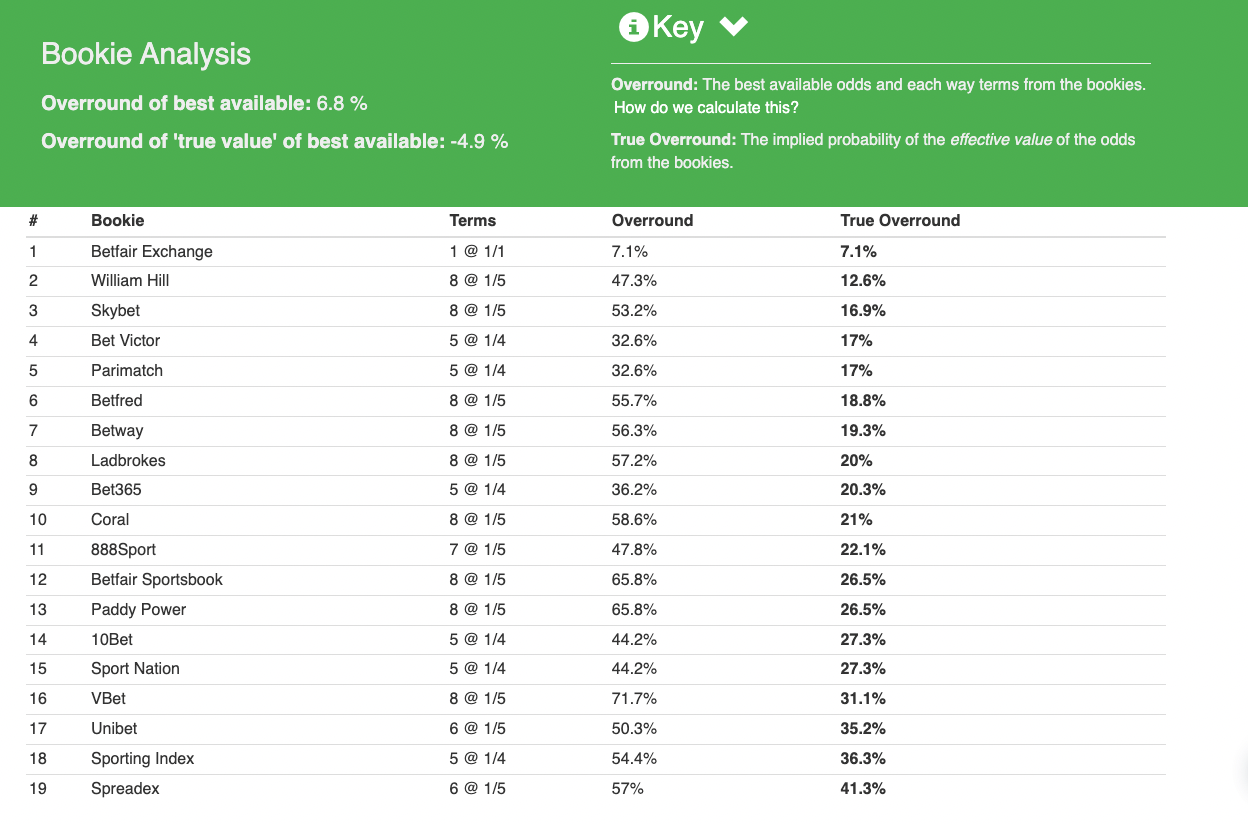 The value within bookmakers is the first thing to understand when learning about betting. Some sports have better betting value than others, and some bookmakers provide better value than others. So, let me give you a little golden nugget. The easiest way to acquire value from sports betting is to bet on the sport with the highest value, using the bookmaker giving the best value. You will increase your odds dramatically just by doing this. Looking at the image above, we list the bookmakers/exchanges giving the best value for that given tournament.
Overround of best available is 6.8%. This means if you bet on every single player, using their best available odds (yes you would need to use several bookmakers) then you'd only lose 6.8% of your initial stake.
Overround of 'true value' of best available means if you bet on every single player, using their best available odds and EACH-WAY terms, you profit 4.9%. See how this analysis can take us from completely blind, to understanding the market value within a few minutes.
Obviously, we're not going to bet on every single player. But now that we've uncovered the market value, we want to uncover the players who have the most value.
Why our golf betting tips are different
Each week we write an article breaking down specific calculations relevant to that tournament, and provide the top 5 best free golf betting tips.
The traditional golf tipster and their golf betting strategies, who tips 3-5 players each week, will experience 2 things.
Long losing streaks due to the small percentage of players tipped relative to the field size

Large infrequent wins, due to the payouts being so lucrative when a player wins.
That strategy will have your accounts, faith, and emotions looking like the chart below.
People fantasize about pro-betting being this glamorous profession with all ups. Firstly, it's not very glamorous. Secondly, one must do what they can to protect their emotions and mental state, to avoid mistakes, failure, or lack of consistency within one's strategy.
Here at GolfForecast, we provide golf betting tips that are consistent, safe, and profitable. We've been providing golf betting tips to members since 2018, and our graph looks like this.

This is real data shown on our site, feel free to click any tournament on the graph to view the results.
What's important here is the lack of volatility. The overall trend is positive, and the down trends are consistent with each other. Meaning you know the rough time frame they will last. Not once did we come close to hitting 0, which is the #1 thing to avoid. We never want to add more funds to an account.
As you can see, there are periods that aren't profitable, but any period over 6 months provided a positive return. So, as simple as this sounds. If a member bets for 6 months or more, following the strategy, they are guaranteed to profit using our Golf betting tips.
So how do we do it?
By tipping around 22 players, we balance strike rate with ROI, and allow you to take advantage of the power of compound interest.
"Compound interest is the 8th wonder of the world. He who understands it, earns it; he who doesn't, pays it" - Einstein
The higher volume of players shortens the length of losing streaks, but it's the perfect balance to still achieve an impressive ROI when we win.
On average our gold betting tips won 1 in every 2.5 tournaments with an ROI of 120%-200%.
Another beautiful thing about our golf betting tips is our utilization of each-way bets. Even when our tips don't profit, we will still collect a sum of our stake back by having some players place.
Tracking your betting profits
Assuming you use more than one bookmaker, tracking your profits can be complicated. Hopping from one account to another to see where payouts came from isn't the most efficient.
Using our profit tracking sheet, you can input every bet you make and have the automatic calculations inform you of your progress. it's very simple to use, simply copy and paste the sheet below into a new excel or google sheet, and enter your bet information each week.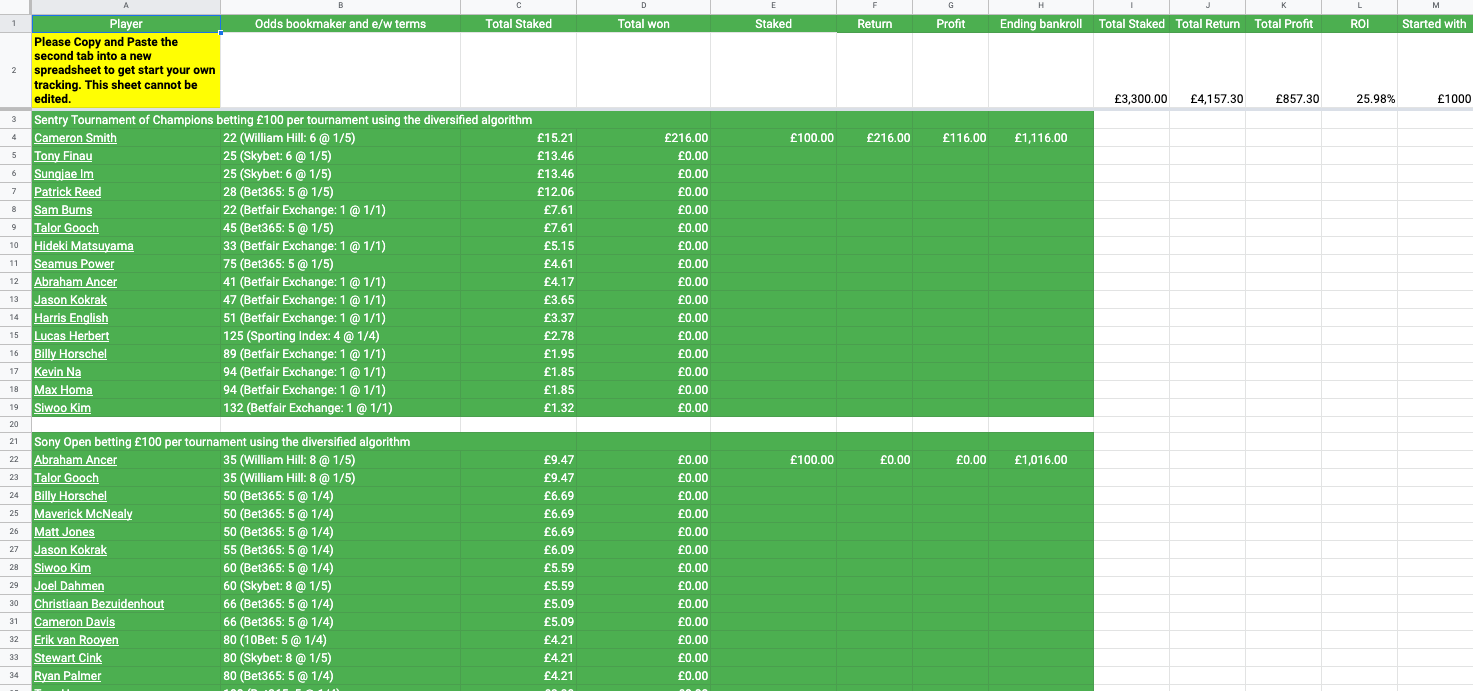 Before each tournament, enter the players you're going to bet on, which bookmaker you're using, the odds & each-way terms you secured, and how much you staked.
Once the tournament is finished, enter which players you got paid out on, and calculate the total paid out + profit.
How GolfForecast calculates the highest value golf tips
Now that we know the tournament's overall value, we want to determine which players have the best chances of winning, statistically. That's how we can shift losing bets to winning ones. GolfForecast takes the top 22% of undervalued players, ranks them from highest to lowest, and voila, there are the highest value golf betting tips. Now, let's do the math.
Here is the calculation process (we'll use our top pick for this given tournament, Keegan Bradley as an example).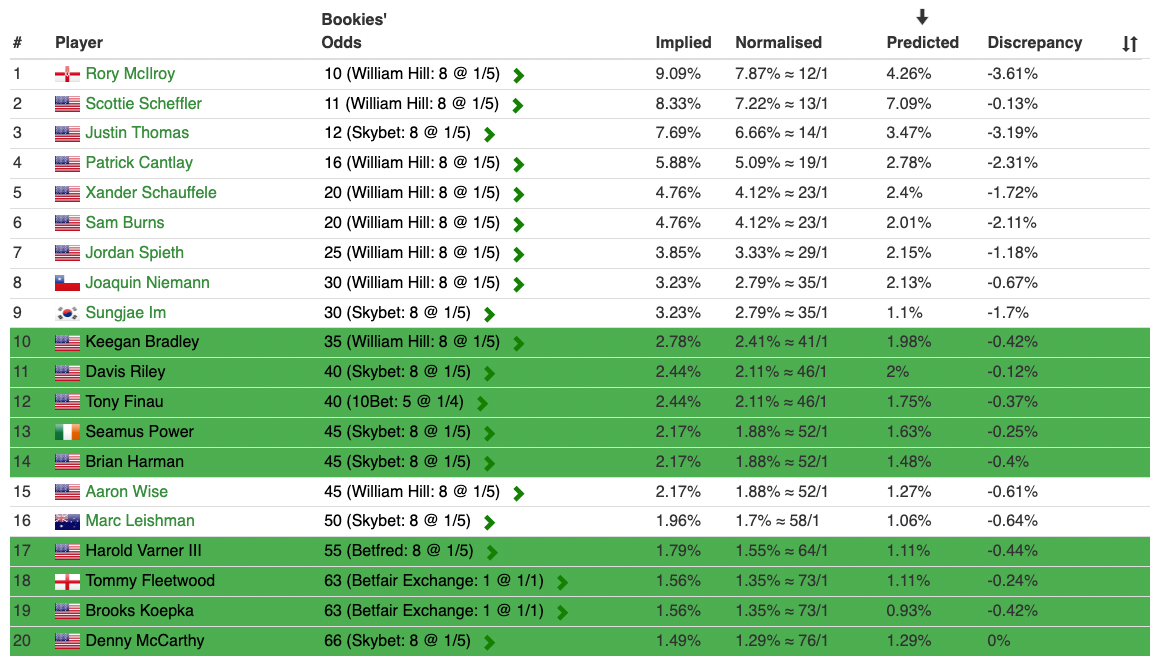 The process
1. The Implied percentage (the odds made by a bookmaker in the form of a percentage). 2.78%
2. Normalised percentage (the odds made by a bookmaker in the form of a percentage if they were to break even). 2.41%
3. Predicted percentage (the odds made by our algorithm in the form of a percentage). 1.98%. This is based on available player data, golf course data, and weather predictions from the official world golf ranking website. The most relevant data points are gathered and weighed each week.
4. Discrepancy percentage (the difference between our algorithms prediction and the normalised percentage). 2.41% - 2.78% = -0.42%
Rather than just looking at the bookmaker's odds to assess a player's likelihood of winning, we had to uncover a different and much more accurate view of a player's potential success. Keegan Bradleys discrepancy percentage is far better than any of the favorites above him.
We do this calculation for every player in the field and filter by the discrepancy percentage (The higher the better). Our algorithm picks the top 22% of undervalued players while excluding longshots (over 150/1) and favorites (Under 22/1) this is what our members use to bet.
Understanding our golf betting tips
Firstly, all tips are intended to be placed as each-way bets. Learn why we bet e/w here.
If you're still trying to figure out how those players got highlighted green, focus on the discrepancy percentage. The top 22% of percentages that are not long-shots or favorites are our picks.
We get asked a lot. Why would you exclude favourites? Well, you'd be surprised at rare it is for them to win. Learn how often favourites actually win here.
The bookmaker or exchange highlighted next to each player has the best value. This will likely change as well, so it's wise to do some bookie comparison before you bet. GolfForecast members benefit from automatic updates based on the bookies they are signed up with – we highlight the top bookmaker from the ones they have accounts with. Want the full list of US Open tips? Register with GolfForecast to claim your 30-day trial.
How do I know how much to bet on each player?
Our golf betting tips are designed to pay out the same amount no matter who wins. This is done by strategically distributing a user's stake across all the bets. For example, if our top pick, who has odds of 28/1 wins, we'll get the same return as if our last pick, with odds of 110/1 wins. This is a crucial part of our strategy because it achieves consistency, and ensures you're not wasting money on players with lower odds. Time and time again, ill see bet sheets where each player has the same wager amount.
At GolfForecast, members indicate how much they'd like to stake in total, and GolfForecast will efficiently distribute their stake across all tips (see an example from a member's account below). Learn about our stake per event feature here.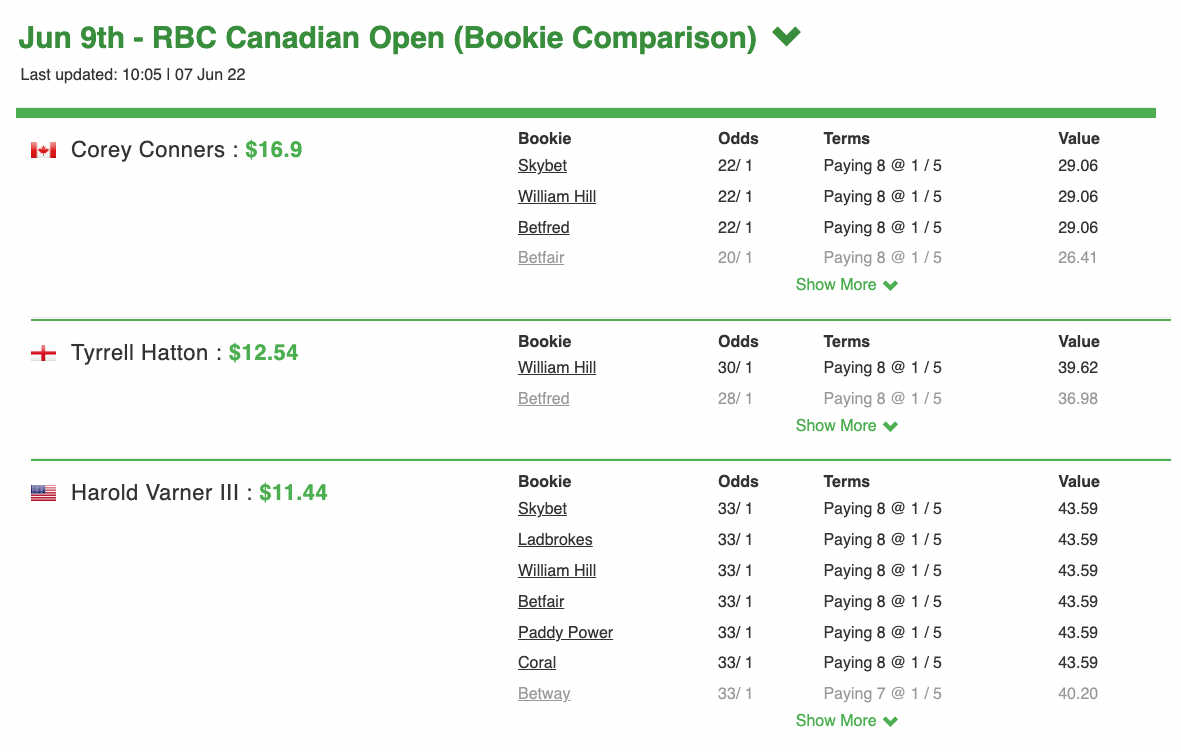 Using free bets to your advantage
One thing many of our members have utilized is free bets credited to their accounts. This will increase value because you don't have to bet using your own money. It's especially useful on losing weeks because you won't lose anything. How it works is bookmakers will offer promotions to encourage you to bet, when these come up take advantage of them while you can because free bets expire. However, they don't expire before the next upcoming golf tournaments.
If you're using free bet stakes, ensure you record which player the free bet applied to. These are important when uncovering discrepancies in the results. When using a free bet credit, let's say £20, if you win £200, you will only get £180 because the £20 you used to bet wasn't yours.
A few other things to keep in mind when using free bets are
max qualifying bet stake

how free bets paid

What tournaments they apply to ("travelers championship only")

bet credits stake

qualifying bet settlement
bookmakers can be sneaky with how free bets are applied.